Web address: http://www.shearingshedsolutions.com.au/ (visit site)
Broken link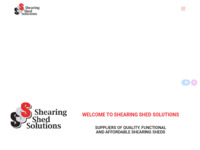 Provides a wide range of shearing shed options, including new sheds in kit form or fully constructed renovation and upgrade of existing sheds or the conversion of existing farm sheds to shearing sheds. Also provides internal gate and fence systems.
Listed in:
Link last checked on February 28, 2021

Keywords: shearing sheds design wool sheep gates fences pens raised board chutes
Visit the AgLinks forums for agricultural discussion.