Web address: http://www.shearingsupplies.com.au/ (visit site)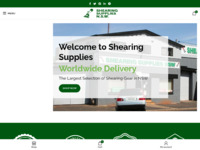 Supplying all shearing needs, from horses to sheep. Selling Heiniger, Lister, Supershear, Gunrunner, Bushies Blues and more.
Listed in:
Link last checked on February 26, 2021

Keywords: shearing supplies heiniger lister supershear sheep wool woolgower shear
Link partner
Visit the AgLinks forums for agricultural discussion.