Web address: http://www.hazeldean.com.au/ (visit site)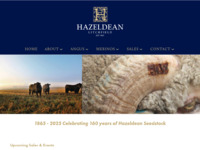 Encompasses Hazeldean Merinos and Hazeldean Angus, East Bungaree Merinos, and Benchmark Senepols and Senegus. Provides clients with genetics adapted and acclimatized to all areas of Australia.
Listed in:
Link last checked on February 26, 2021

Keywords: angus merino stud senepol
Visit the AgLinks forums for agricultural discussion.