Web address: http://www.biofarmag.com.au/ (visit site)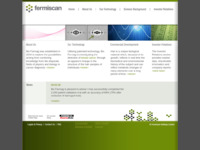 Specialises in biological soil management and magnetic water solutions. Markets the BioFarm range of biological soil management products including soil microbial inoculants, humates, fulvates, fish fertiliser and soil conditioners. Also supplies magnetic water conditioners for hard water, salinity and iron problems in bore water.
Listed in:
Link last checked on March 5, 2021

Keywords: agrowplan consultancy biofarm jeff Harvie soil fertiliser fertilizer organic
Link partner
Visit the AgLinks forums for agricultural discussion.