Web address: http://www.farminstitute.org.au/ (visit site)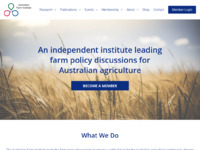 An independent policy research institute that commissions and carries out research into policy issues impacting on Australian agriculture. The objective is to promote policy outcomes that maximise the opportunity for Australian farmers to operate profitable and sustainable businesses.
Listed in:
Link last checked on August 5, 2022

Keywords: farm policy research independent institute
Visit the AgLinks forums for agricultural discussion.